Drilling Fluids Laboratory
Through coursework, students have access to hands-on analysis of drilling fluids, including:
• API standard methods for testing drilling fluids
• Colloidal properties of clay
• Filtration properties, effects of treating agents
• Viscous characteristics and control of properties
• Effects of contaminants and chemical treatments
• Solids analysis, HPHT testing, lubricity
• Inhibited, oil based, and synthetic systems
• Dynamic testing, specialized industry testing
• Multiple section offerings to provide a low student to instructor ratio
Instrumentation includes:
• Ofite model 800 and 900 viscometers
• Thermocups for elevation temperatures
• Brookfield spindle rheometer
• Low pressure, HPHT, and dynamic filtration
• 600 °F roller oven with HP aging cells
• 10 ml and 50 ml Ofite retort kits
• Lubricity/EP tester
• Resistivity meters, emulsion stability testers
• Differential sticking testers
• Complete offshore kits for chemical and physical analyses
• Garrett gas train
• Hach turbidimeter and colorimeter test kits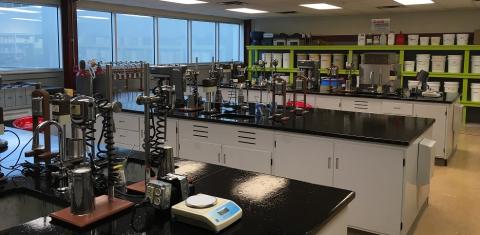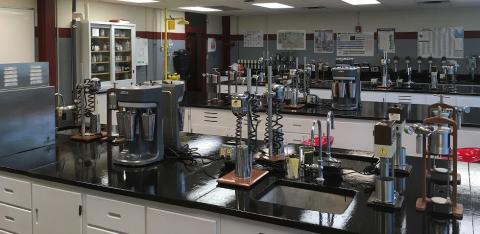 Drilling Engineering/Well Control Laboratory




UL Lafayette Petroleum Engineering is an accredited IADC WellSharp Well Control provider.
Through coursework, students have hands-on analysis of drilling and well control, including:
• Drilling ahead, determination and analysis of d-exponent.
• Leak-off tests, formation integrity tests.
• Kick prediction and detection, shut-in procedures.
• Well control utilizing multiple methods.
• Hydraulics sensitivity analysis.
• Torque and drag, tubular stress determinations.
• Casing design, well planning.
• IADC Well Control certification.
Instrumentation includes:
• Core and rock sample drilling and cutting.
• Shale shakers, desanding/desilting cyclones.
• Triplex pump, Cameron BOP's.
• DS and CS drilling and well control simulators.
• Full scale rig floor consoles.
• Software packages from Pegasus Vertex DEPRO, MODUS Payzone, and Oliasoft.
• Field trips to working drilling rigs, tubular manufacturing and handling equipment, etc.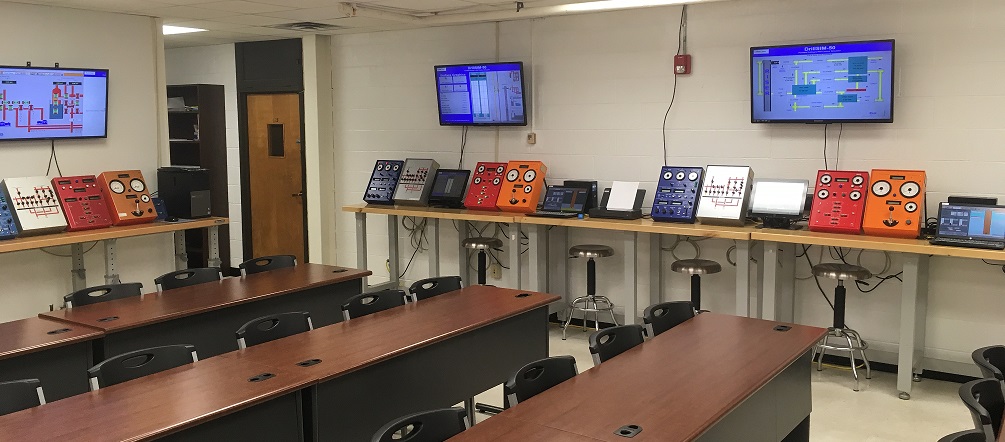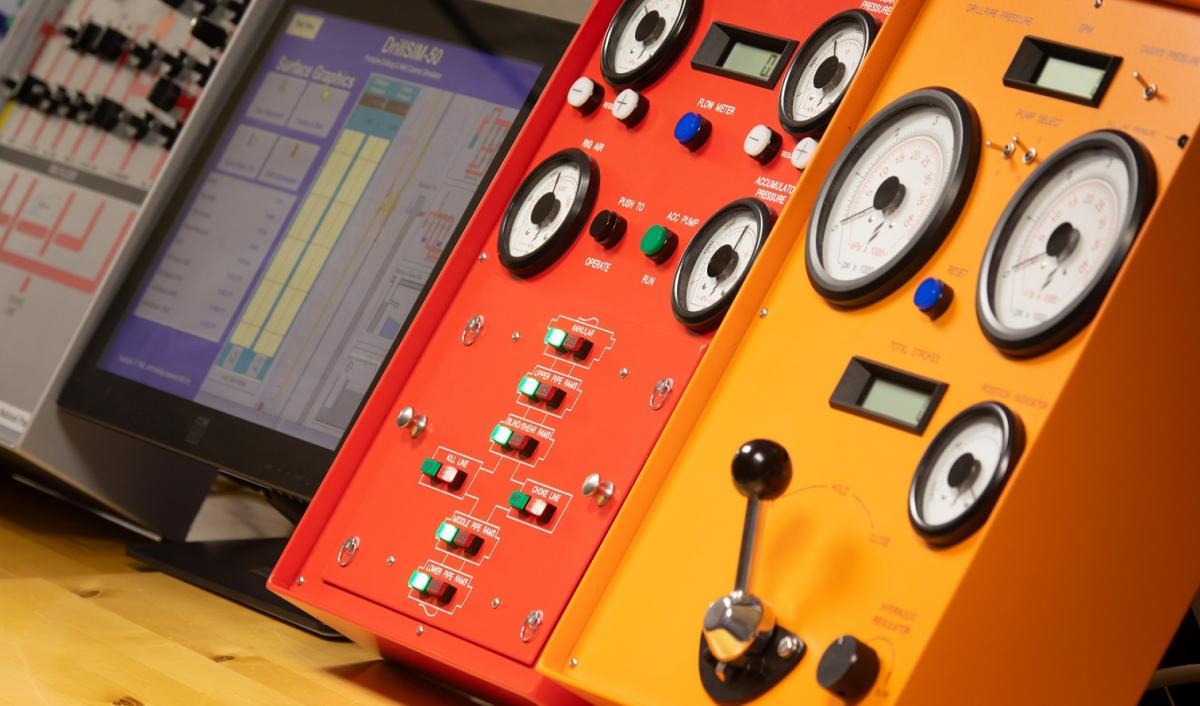 Reservoir/Production Laboratory
Through coursework, students have access to hands-on analyses of rock and fluid properties, including:
• Unconsolidated sand sieve analysis, gravel pack design
• Surface/Interfacial tension, specific gravities, viscosities, flash points
• Resistivity of reservoir fluids and bulk rock
• Core sample preparation, cutting, and coring
• Gas porosity and permeability
• Liquid permeability, retort analysis
• Sand pack study, enhanced oil recovery
• Capillary pressure, two phase permeability
• Phase behavior, PVT analysis
• Specialized industry testing
• Multiple section offerings to provide a low student to instructor ratio
Instrumentation includes:
• Diamond core saws and coring drill presses, sand sieves
• Core saturators, Soxhlet, and centrifugal extractors
• Surface/interfacial tension, capillary pressure apparatus
• Gas porosimeters, gas and liquid permeameters
• 1200 °F core retort, vacuum oven
• Relative permeability apparatus
• Quizix metering pumps, gas booster pump, centrifuges
• Core and liquid electrical properties
• Multiple high pressure and low pressure core holders
• Rolling ball viscometers, flashpoint determination, spectrophotometers
• Mercury free PVT cells up to 20,000 psi
• Working pumpjack and separator facility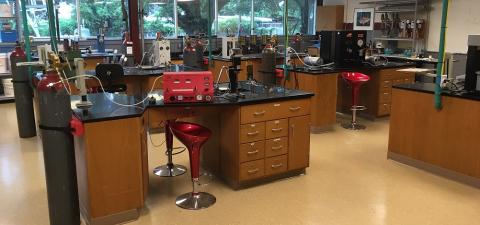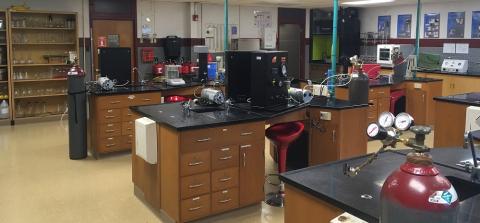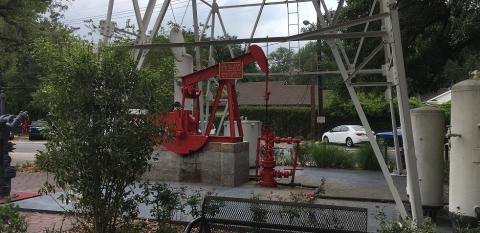 Barrier/Cement Laboratory
Students have excess to hands-on analyses of oil and gas well cement properties, including:
• Adherence to API RP 10 B-2 – Recommended Practice for Testing Well Cements
• Slurry design
• Properties of cements, additives, spacers, and pre-flushes
• Thickening time – time required to mix and pump slurry
• Compressive strength
• Density
• Fluid loss tests
• Viscosity
• Static gel strength
• Wettability
• Research Activities
Instrumentation includes:
• Chandler HPHT Consistometer
• Stirring Fluid Loss Cell
• Static Fluid Loss Cell
• Atmospheric Consistometers
• Atmospheric Viscometers
• Fann HTHP Viscometers
• Pressured Mud Balances
• Wettability Meter
• Water Baths
• Chandler X-Link Detector
• Chandler HPHT Ultrasonic Cement Analyzers (UCA)
• HP Dual UCA Accumulator System – department built
• Circulating Chiller Systems
• Ultrasonic Cleaner
• API Constant Speed Blenders
• Hydraulic Press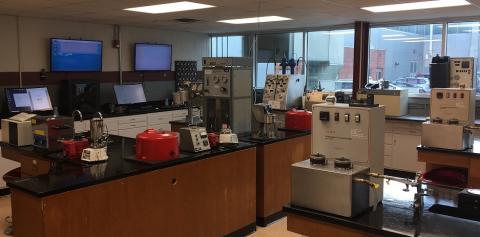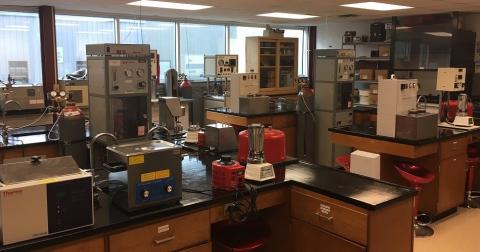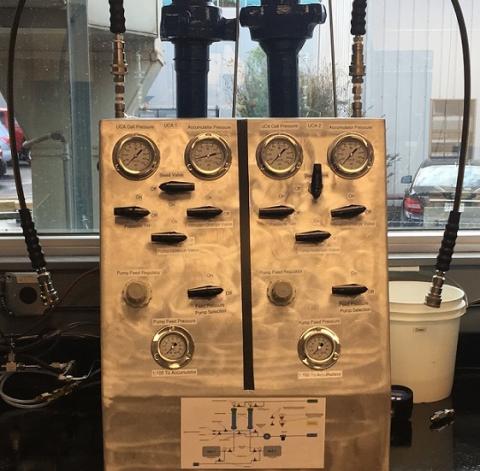 Petrophysics and Formation Evaluation
Students can better understanding the fundamental principles of bore hole surveys to evaluate the formation characteristics and fluid contents of porous strata using Techlog, a Schlumberger Software and Neuralog.
Multimedia Classroom
The lab comprises $210,000,000 worth of software. UL is the only university in the world to have this number of INTERSECT licenses and is the first one in deploying the software for educational purposes. 
The lab has been upgraded in May 2019 to Meet the requirements of simulation in curriculum and professional development
• INTERSECT - 30 licenses (Reservoir simulation)
• PIPESIM - 35 licenses (Pipeline steady state multiphase flow)
• OLGA - 35 licenses (Pipeline dynamic multiphase flow)
• OFM - 35 licenses (reservoir monitoring and analysis/decline curve analysis)
• MEPO - 35 licenses (Uncertainty analysis software)
• Mangrove - 10 licenses (Hydraulic fracturing)
Instrumentation includes:
• Widnows 10 Operating System
• Other Popular Petroleum Engineering Software Packages
  (Schlumberger ECLIPSE Suite, Fekete, API Standards, SPE Database, FracPro, Petrel,
   Ansys, Weatherford EPS, Longbow, Techlog, Innova, Payzone)
• Network Laser Printer
• 30 Desktop Computers